UPDATE(18/10):Waiting List Closed!
UPDATE(26/9):
Waiting list is available. 
Cashewbert Workshop, Vegan Cheese Lecture in Tokyo
Cashewbert will be visiting Japan for the first time to offer a workshop on 20th October!
VegeProject will organize the special workshop by Cashewbert's founder and owner, Mr. Anderson Santos.
This workshop will introduce European style vegan cheese and you will learn the science behind the fermentation process and the steps to make vegan cheeses, such as Camembert and blue cheese.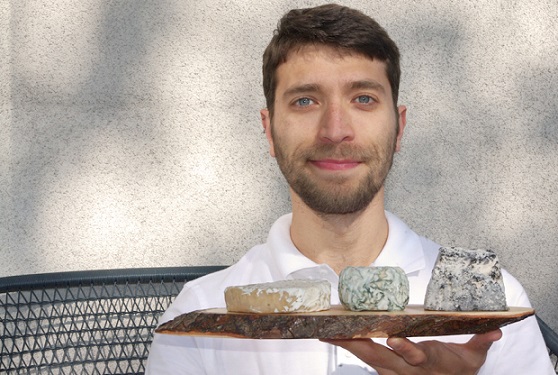 The cheese is made from nuts and you can easily replicate the recipes in your own home.
The cheeses are a dairy-free, lactose free, natural alternative, based on the tradition of European cheeses.
The event will include cheese tasting, an introduction to making vegan cheese and the demonstration of two recipes.
Mr. Anderson will talk in English and we will translate to Japanese.
The 15 p of the document will be given. (It is Japanese but if you wish English version, please let us know in advance.)
The workshop has limited spaces available and participants are asked to pay in advance.
RESERVATION REQUIRED.
If you would like to join this workshop, please email us to the following address:
event.vegeproject@gmail.com
In the email, please write
1. Participant's full name
2. Your purpose (Interest in veganism, Interest in cheese recipe, Hobby, Business)
3. (not required) Expectation, Questions, Comment and so on if you have.
Once the payment is done, your reservation is confirmed.
Workshop
Day & Time:20th Sunday October 18:00-20:30(with some break)
Venue:Garden Kitchen Gyoen East
4-25-13 Yotsuya Sihnjuku(Nearest station: Shinjukugyoen 新宿御苑駅 5 minutes on foot)
Fee:3500 yen (Required to pay in advance.
Cancellation:After 18th will not be paid back, before 18th we will pay you back deducted the handing fee.
Capacity:30 people
How to pay:
1.By bank
From Yucho bank: code 10150,
Account numner86163871
From other banks
yucho bank (ゆうちょ銀行)
code 9900 (金融機関コード 9900)
shop number 018 (店番018)
the kind: Futsu (預金種目 普通)
name of the shop: Zero Ichi Hachi (店名 〇一八店ゼロイチハチ店
account number 8616387 (口座番号 8616387)
2.Credit card payment(VISA、Master、AMEX are available.)
Please notice that 150 yen for the credit payment system will be charged.
We look forward to seeing you on 20th October!