From April 5th 2020, The Taito Ward Government Office's dining hall Chikashoku Sakura has added a veggie menu. The exciting part about this project in the Taito Ward Government Office is that the veggie menu will be a permanent addition, meaning it will be sold everyday.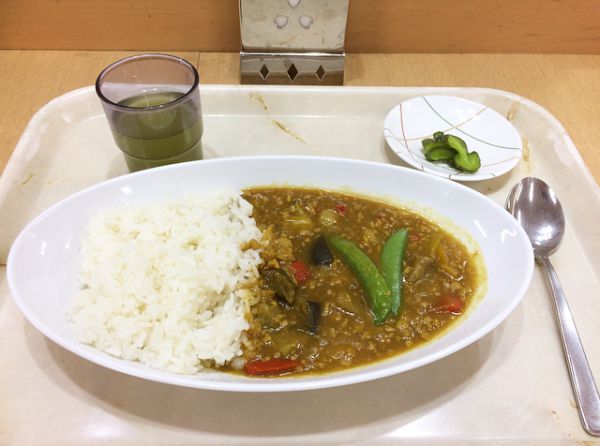 Taito Ward Government Office's first veggie menu: Veggie Powered Keema Curry
Their veggie option has acquired VegeProject's "Vegan Certificate Mark," and is suitable for vegans (meaning the product contains no meat, fish, eggs, dairy, honey, or any animal-derived products).
The idea originated from a suggestion from an office worker in the tourism department at the Ward Office to the company that operates the Ward Office, asking if they wanted to add a veggie friendly option. This delicious menu has been a result of the innovative efforts of the chefs at Chikashoku Sakura, and the some meetings we as VegeProject were able to have with the staff.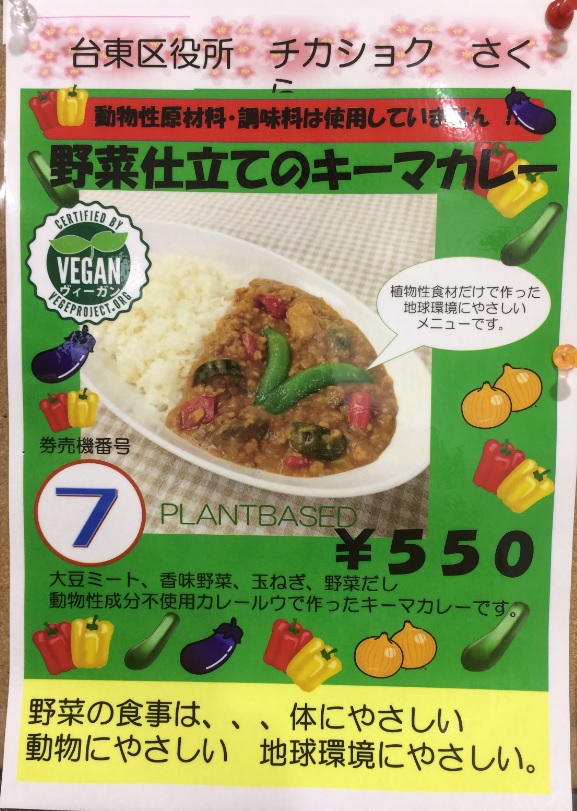 The menu featured at the entrance.
The first menu item is the "Veggie Powered Keema Curry" at 550 yen, including tax (roughly $5.16). With no animal products used, the curry gets its flavor and texture from soy meat, generous portions of vegetables, and spices. This is not only good news for vegetarians and vegans, but now anyone who frequents Chikashoku Sakura can enjoy a delicious new menu addition.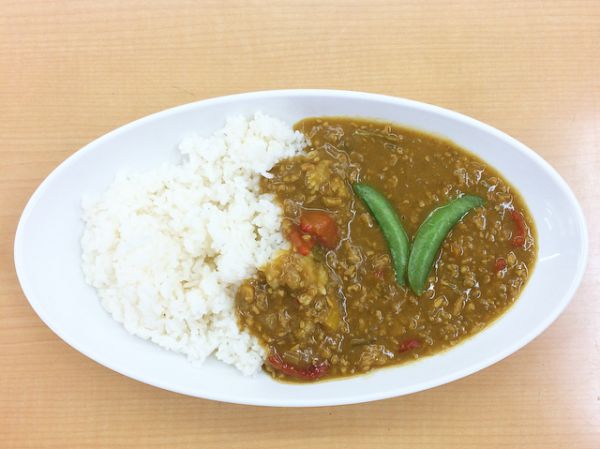 The curry is decorated here with snap peas arranged in the shape of a "V" for vegan.
Inside the dining hall, there are also exhibitions on veganism, such as signage explaining "veganism is good for our health, the animals, and the planet."
As written at the entrance, the Ward Office dining hall can be used by anyone. For anyone who uses the Taito City Ward Office, or is visiting nearby, we hope that you can enjoy the "Veggie Powered Keema Curry."
*In light of the current situation with Covid-19, Chikashoku Sakura has started carrying alcohol, reduced seating, and changed the seating arrangement to not be face to face.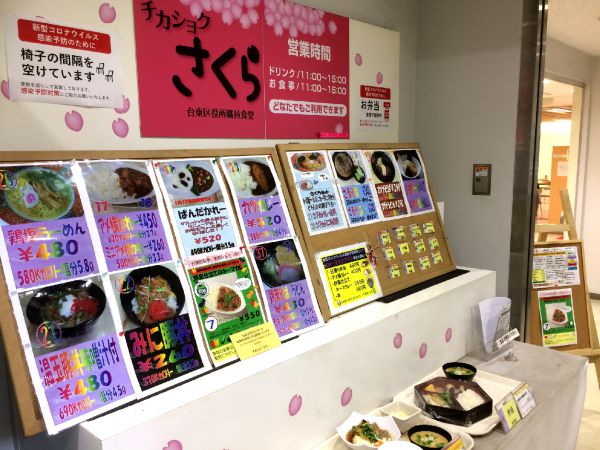 The entrance of the Taito City Ward Office's dining hall, Chikashoku Sakura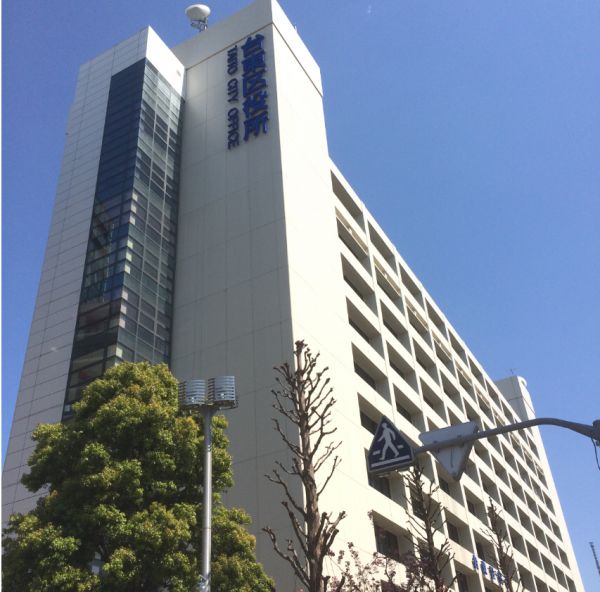 Taito City Ward Office
【Chikashoku Sakura】
Address:台東区東上野4丁目5番6号 地下1階 (Taito City East Ueno 4-chome 5-ban 6-go, basement first floor)
Hours of Operation:Weekdays 11:00~3:00