More and more products are acquiring the "Vegan Certificate Mark," a label awarded only after an examination process by VegeProject to see if the product meets our defined standard. With inquiries coming in everyday, we are excited to collaborate with the many businesses that are working to create new vegan products.
If you would like to inquire about the "Vegan Certificate Mark," or consulting regarding vegan products, please contact us at contact@vegeproject.org.
Out of the new products that have acquired the "Vegan Certificate Mark," we will introduce some of the ones that were covered in the 69th issue of the magazine veggy, released for March and April of this year.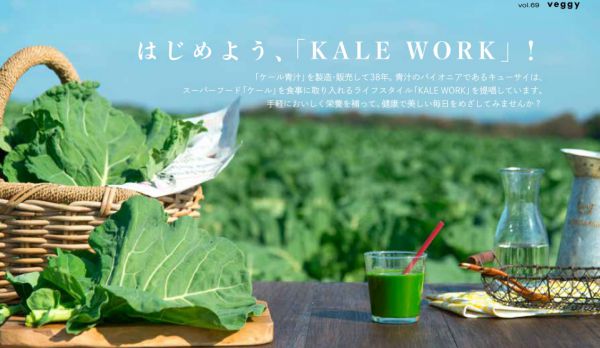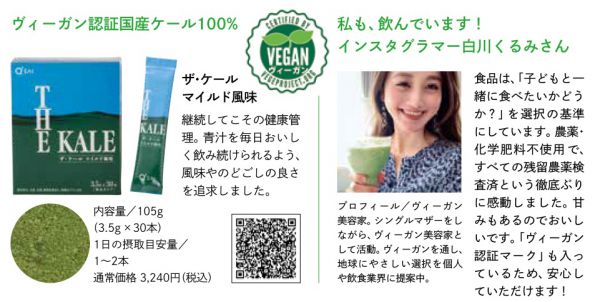 From Q'sai, the company that made the vegetable juice with the famous commercial "tastes bad, one more please!", they have a new product, "The Kale."
Q'sai is a company with a passion for environmentalism, and therefore has become involved in and hopes to spread vegan food from a sustainability perspective. Even with vegetable juices, some use animal products, so vegan labeling is important for consumers, and we can also take this as a sign of Q'sai's support for more vegan food. Besides being vegan, Q'sai's has committed their kale product to being 100% organic.
Q'sai Co., Ltd.:https://corporate.kyusai.co.jp/en/
Link to purchase:https://www.kyusai.co.jp/products/detail.html?prod_id=00075310&c_cd=001001001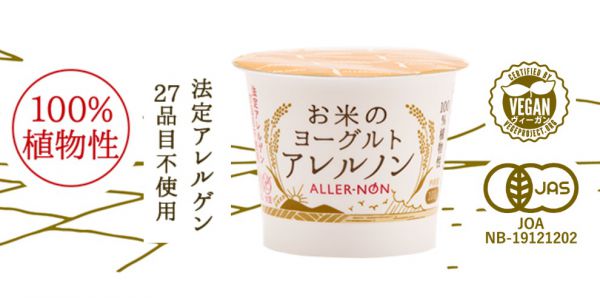 Aller-non, a business from Shiga Prefecture, also presented a new vegan product lineup made from rice and vegan lactic acid. The lactic acid they use is also derived from rice, and is an ingredient that has traditionally been in Japan from long ago.
The product line includes rice-based yogurt "Aller-non," "Rise," rice-based mayonnaise "Rice Mayo," and more. Besides what has been introduced here, Aller-non has collaborated with us in using the "Vegan Certificate Mark" on many of their other rice and vegan lactic acid-based products.
Aller-non:https://www.allernon.jp/
Online shop:https://www.allernon.jp/shop/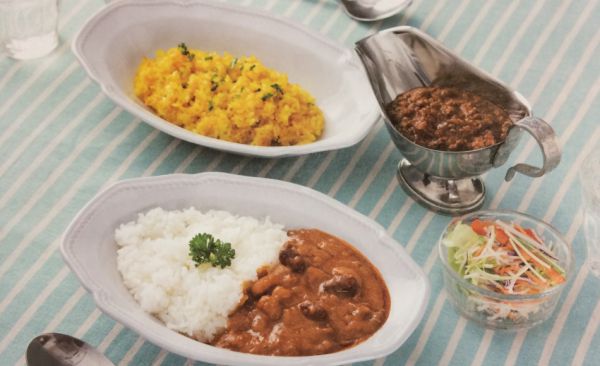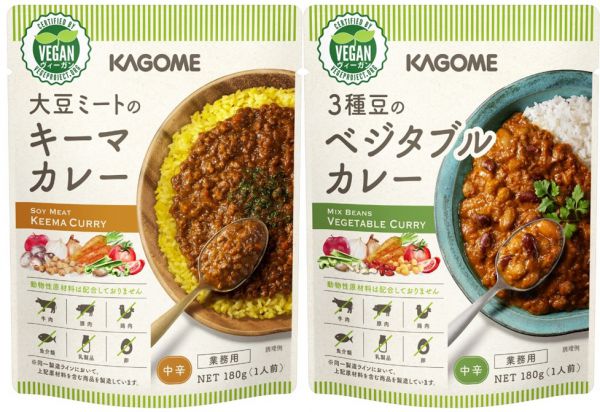 Kagome, a company Japanese people are all probably familiar with, also came out with a vegan curry series. With the soy meat Keema Curry, one can enjoy the umami from the vegetables, a balanced spiciness, and ground meat-like texture of the soy meat. The mixed beans Vegetable Curry is packed with the rich textures of red beans, white beans, and chickpeas. Both are medium spicy.
Kagome's press statement: https://www.kagome.co.jp/company/news/2020/2020011404.html
Vegetime's article on Kagome (Japanese):
That's a wrap for our introductions of three companies and their new "Vegan Certificate Mark" products from veggy's 69th issue!