Vegetarian Party at AmphBranchCafe in March!
AmphBranchCafe is a new fashionable café in Koenji, Tokyo.
All vegetables are fresh and delivered from Yokohama.
Now they serve non-vegetarian dishes (changeable to vegetarian dish if you let them know in advance) , and they are going to serve vegetarian dishes as regular menu after this party.
The owner was interested in vegetarian menu after the meeting with VegeProject. At this party, let's enjoy the first vegetarian dishes at AmpBranchCafe to celebrate his passionate attempts.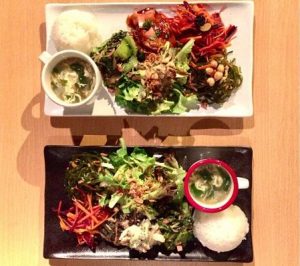 [Event]
Date: 3/11/2017
Sunday March 11th
Happy Hour: 7 to 10 pm (Drink Last Order: 9:30 pm)
Capacity: 20 to 30 people
*Advance Reservation Necessary*
If you would like to join this vegetarian party, please contact VegeProject on Facebook or send an email to contact@vegeproject.org. You will receive a confirmation email within 2 days.
Application Period: 5th March
Charge: 2500yen (including Buffet and Herb Tea)
Cancellation fee: Cancel after 8th March
Food Menu (This is example and it can be changed.):
Seasonal Vegetable Terrine
Green Salad with Watermelon Radish and Nuts
Hors d'oeuvre
Green Onion Flitters
French Broad Beans
French Fries
Beans Meat with Rossini Truffle Sauce
Dessert
Herb Tea
*Alcohol is available with cash (cash on delivery).
If you have any questions feel free to contact VegeProject. (contact@vegeprject.org).
We look forward to seeing you at AmpBranchCafe! Thanks.